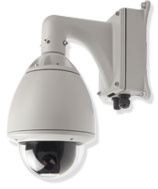 Camsecure CCTV

Webcams CCTV Software and Systems



SONY External Pan Tilt & Zoom High Speed Dome Specification 18 X Zoom

Day / Night SONY EX-View external high speed dome
High resolution day / night switching external high speed dome camera with a built in 216 x
zoom lens, using a moving IR cut filter to switch between monochrome and colour. The
pan, tilt and zoom functions can be controlled remotely either using a joystick controller or
a compatible DVR. The camera uses RS485 PELCO-D / P to communicate. There are four
alarm inputs that can be linked to preset camera positions. The camera has manyadvanced features including extremely low lux operation and a fully adjustable white balanc
function, these and other options are set-up in the on screen display.

Type Colour
Image sensor 1/4" Super HAD CCD
Pixels 752(H) x 582(V)
Lens 4.1mm (Wide) ~ 73.8mm (Tele)
S/N Ratio More Than 50dB
Mini. Illumination 1.0 Lux
Picture Effect Nega Art, Black & White, Mirror
White Balance
TW/Indoor/Outdoor/Manual/AWB/One push
AWB
Video signal output 1Vp-p Composite Video
(75) ohms
Horizontal resolution High Resolution 520TVL
AGC Auto / Manual
ALC Auto / Fix
AES Auto / Fix
BLC On / Off
Optical zoom 18x Zoom
Digital zoom 12x Zoom
Focus Auto / manual
External control RS-485 Pelco P / D
OSD control Zoom, Focus, Iris, AWB, AGC,
Position,
Language English
Pan 360 °, speed 300 °/s
Tilt 0 ~ 96 °, speed 150 °/s
Preset 128 preset positions
Patrol patterns 4 Patrol patterns
Auto cruise 5 Auto cruising tracks
Power source AC 24v / 2A
Ambient temperature -30 °C~50 °C
Humidity 10%~90%

All Camsecure Dome Camera's come with a 2 year warranty. If a fault develops within the first year the camera is replaced. If a fault develops
within the second year the camera is repaired or replaced if the repair is deemed uneconomical. These are highly reliable units with sparkling
performance.

If you have any special or unusual camera requirements please dont hesitate to ask.

This site is constantly updated with new products, special offers and features so be sure to visit us regularly and remember to be safe, be secure......Camsecure.

Camsecure Team...

1/4" SONY EX-View CCD
520 TV Lines
0.01 Lux
Switches to monochrome at less than 2 Lux
Uses moving IR cut filter
4.1mm to 73.8mm zoom lens
216x Zoom (18x optical zoom, 12x digital zoom)
Pan range 360 degree, speed 300 degree/Sec
Tilt range 0~96 degree, speed 150 degree/Sec
128 Preset positions
4 patrol patterns
4 alarm inputs and 1 alarm outputs
RS-485 multi protocol including Pelco D / P
External weather proof
Built-in 24V heater and blower
Wall mount bracket and back box included
Die-cast metal construction
24v AC power supply included

Model 15-CD55WDN-18

£654.68

World Wide