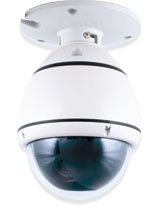 Camsecure CCTV

Webcams CCTV Software and Systems



Hitachi Mini Pan Tilt & Zoom External Camera Specification

HITACHI External Day / Night mini pan tilt dome with 10 x zoom lens

High resolution day / night switching external mini pan tilt zoom dome camera with a built
in 100 x zoom lens (10 x optical 10 x digital), using a moving IR cut filter to switch between
monochrome and colour. The Pan, tilt and zoom functions can be controlled remotely either
using a joystick controller or a compatible DVR. The camera uses RS485 PELCO-D / P to
communicate. The camera has many advanced features including a digital slow shutter
function for extremely low lux operation and a fully adjustable white balance function, these
and other options are set-up in the on screen display

Type Day / Night
Image sensor 1/4" SONY Super HAD CCD
Pixels 752(H) x 582(V)
Lens 3.78mm (Wide) ~ 37.8mm (Tele)
S/N Ratio 46 dB min
Mini. Illumination 0.02 Lux, ICR on
Picture Effect Posi./Nega/Freeze/Cross
Line/Mask Motion Detect/ H/V Reverse
White Balance ATW / AWB / FIX
Video signal output 1 Vp-p Composite Video 75
ohms
Horizontal resolution 480 TV lines
AGC +24dB (Max)
ALC Auto / Fix
AES 1/60 - 1/120,000
BLC 48 Zone BLC (OSD Control)
Optical zoom 10x Zoom
Digital zoom 10x Zoom
Focus Auto / Manual
External control RS-485 Pelco P / D
OSD control Zoom, Focus, Iris, AWB, AGC,
Position
Language English
Pan 360 °, speed 0.5~30 °/s
Tilt 0 ~ 180 °, speed 0.5~30 °/s
Preset 32 preset positions
Auto cruise 6 Auto Cruising Tracks
Power consumption DC 12v 500mA max
Ambient temperature -30 °C~50 °C
(Recommended 0 °-40 °)
Humidity 10%~85%

All Camsecure Dome Camera's come with a 2 year warranty. If a fault develops within the first year the camera is replaced. If a fault develops
within the second year the camera is repaired or replaced if the repair is deemed uneconomical. These are highly reliable units with sparkling
performance.

If you have any special or unusual camera requirements please dont hesitate to ask.

This site is constantly updated with new products, special offers and features so be sure to visit us regularly and remember to be safe, be
secure......Camsecure.

Camsecure Team...

With 32 Preset positions and 6 auto cruise tracks, a 10 x Optical Zoom and on top of
that 10 x Digital Zoom, this mini day night dome is an ideal unit for areas where a fully
functional PTZ dome is needed but in a small size. The camera operates from 12VDC
which is usefull for portable applications too.

• 1/4" SONY Super HAD CCD
480 TV lines
0.02 Lux (ICR On)
3.78mm ~ 37.8mm zoom lens
100x zoom ( 10x optical zoom, 10x digital zoom)
Pan range 360 degree, Speed 0.5~30 degree/sec
Tilt range 0~180 degree, Speed 0.5~30 degree/sec
32 Preset positions
RS-485 protocols including Pelco D/P
Power input DC12V

Model 15-CD51PTZ

£312.94

World Wide

No Longer Available, Replacement Coming Soon