To Our Webcam Accessories Page


£3.50

£44.50

Back To Webcams >>>

Sensitivity: -58±2dB
Directivity: Omni-directional
Frequency Response: 20-16000Hz
Operating Voltage: 1-10V
Standard Operating Voltage: 3V
Current Consumption: Max.0.5mA
S/N Ratio: 60dB or more
Cord Length: 1.7 meters

Our pre-made extension lead is suitable for extending our Weatherprroof Webcam and IP Webcam Kits in 20 metre sections up to a maximum of 100 metres.

Each lead kit is supplied with adapters and joiners etc. to allow the leads to connect together providing power, video and audio connections(where applicable) on a single cable. These leads are also suitable for our all in one CCTV cameras.

Back To Webcams >>>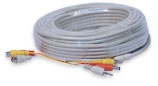 Camsecure CCTV

Webcams CCTV Software and Systems



Use our USB to IP Converter to connect up to 2 x compatible Camsecure USB Webcams to your network or the Internet without the need for a PC effectively turning them into IP Camera's.

NOTE:
Only webcams with this symbol are compatible with this device

20 Metre Extension Cable

Only £18.00

Temporarily Out Of Stock

World Wide