9100B Video Webserver

9100 Boxed 4 x Input Webserver

£119.99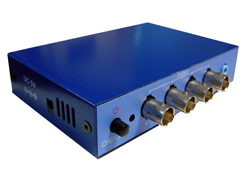 9100 4 x Input Webserver PCB Kit

£79.99

Camsecure CCTV

Webcams CCTV Software and Systems

4 Input Video Webserver with Single Channel Audio + Full Product Support (including HTML)


The 9100B Video Server enables you to view broadcasts from up to 4 different channels so you could connect CCTV cameras, video
output from a Sky Digi box or Freeview box..... basically anything you can view on a TV/monitor), with a single IP address. It makes
these sources accessible (plus an audio channel) through a standard web browser worldwide.

Camsecure will also provide you (if you need it) with sample code and browser plug in modules so you can easily put your output from
this unit on your own website.

The unit has built in Email and FTP upload on motion detection as well as streaming video and will also keep its time accurate by
contacting an internet time server daily and adjusting its time so its always correct. It has password protection so there is no need to
worry about people finding your webserver address as you can set two levels of password allowing some user access or none but
yourself........of course you can also allow full access if you want everyone to see your handy work.


Features :


- Embedded Web server - No need for a PC, operate's directly on your LAN / WAN or the Internet.
- Multiple AV Input - 4 BNC Video input & 1 Audio Input.
- Round Robin - view 4 video inputs in one screen.
- Record 4 channels in 4 separate file.
- RS485 output for controlling PTZ camera's (make sure your camera uses the protocol PELCO-D, this server won't work with any other
protocol).
- Report IP address every 2 hours for dynamic IP User's.
- Support IP Server function - easy to find IP by name on Internet & every PC can be server online.

We also supply just the bare bone PCB for those of you who are good at hardware construction so you can incorporate the PCB Module
into your own casings and equipment as desired.

Part of Camsecure's technical support facility is to set up Dynamic Nameservers on your behalf (if you are not sure about doing this
yourself) so you can still access your cameras without a fixed IP address using a name instead of a number. Check out the Support
Section for more information.

Temporarily Out Of Stock

World Wide