Wireless 5.8 Ghz Radio CCTV Transmission - Low Interference

Camsecure 5.8 Ghz Wireless CCTV - Multi Camera Transmission, Low Interference

The Camsecure 5.8 Ghz radio CCTV system is ideal for situations where a cable link to cameras is not really an option. Many situations exist
where viewing Livestock, Wildlife, Remote buildings etc. is needed but cabling is not possible due to roads, rivers or just the geographical layout of
the site. Our 5.8 Ghz CCTV transmission system is ideal for all applications such as this. Simply run the video feeds into and out of the transmitter
and receiver and aim the transmitting and receiving antennas at each other. Remember Line Of Sight is required for this system to work.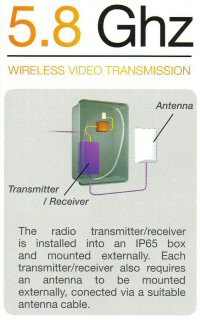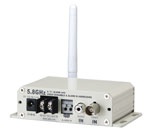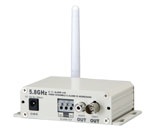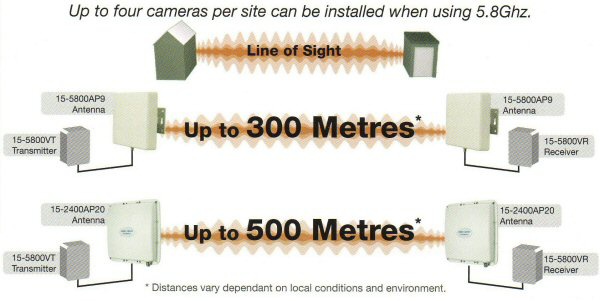 Camsecure CCTV

CCTV Equipment Software and Systems

£159.99

5.8 Ghz Transmitter Model 15-5800VT

The use of 5.8 Ghz Radio greatly reduces interference from LAN systems and you can achieve up to 500 metres transmission distance using the
optional antennas. These units have 8 selectable channels and up to 4 cameras can be installed per site. Together with Audio Inputs, an Alarm
signal with buzzer and Digital Encryption our 5.8 Ghz wireless CCTV system is the professional choice for radio CCTV. A full range of enclosures
antennas and other accessories for our 5.8 Ghz radio CCTV equipment is available in the wireless accessories section.

5.8GHz video and audio transmitter with alarm

5.8GHz
Transmitter
Video and audio
Alarm transmittion with buzzer
Range up to 100 metres
3dB antenna SMA connector
Channel selected by DIP switch
10mw output
Aluminium housing
Fully approved
12v DC @ 250mA

5.8GHz video and audio receiver with alarm

5.8GHz
Receiver
Video and audio
Alarm receiver with buzzer
3dB antenna SMA connector
Channel selected by DIP switch
Aluminium housing
Fully approved
12v DC @ 250mA

5.8 Ghz Video - Audio CCTV Transmitter

5.8 Ghz Video - Audio CCTV Receiver

£169.99

5.8 Ghz Receiver Model 15-5800VR