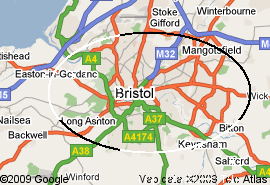 We will deliver your custom made Bridal Cake, Theme Cake,
Birthday Cake, Anniversary Cake - what ever the occasion in
perfect condition direct to your door or to your venue if you prefer.

We provide
FREE DELIVERY
anywhere in the Bristol area shown.

Prices for delivery outside of Bristol start at £5.00 and for deliveries
even further away we charge just £0.50 per mile extra. Please
have a look at the map to get an idea of a delivery charge for your
location and contact us for a fixed delivery price to get your
special cake straight to your door..

Alternatively you can pick the cake up yourself - but please take
care to transport it well if you choose to collect yourself.

Delivery Area - Where We Go

Just some of our Classic and Special Order cake creations

Delivery FREE Anywhere in this circled area