Wireless 2.4 Ghz Radio CCTV Transmission System

Camsecure 2.4 Ghz Wireless CCTV Transmission and Reception

The Camsecure 2.4 Ghz radio CCTV system is ideal for use in areas of low interference e.g. away from wireless networks, and a cable link to
cameras is not really an option such as viewing Livestock, Wildlife, Remote buildings etc.Our 2.4 Ghz CCTV transmission system is ideal for all
applications such as this where there is very little Wireless LAN or other high frequency radio activity. Simply connect the video into and out of the
transmitter and receiver and aim the transmitting and receiving antennas at each other. Remember Line Of Sight is required for this system to work.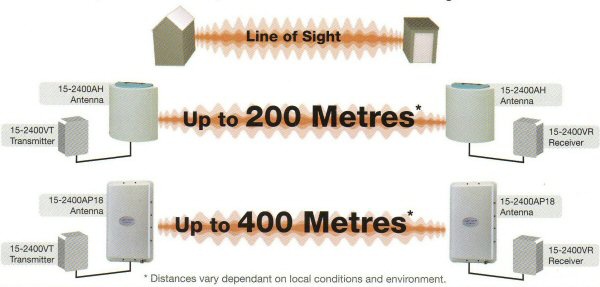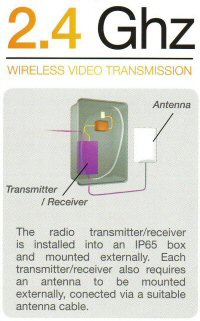 Camsecure CCTV

CCTV Equipment Software and Systems

£74.99

2.4 Ghz Video - Audio Transmitter

The use of 2.4 Ghz Radio is widely used for low range CCTV transmission and reception. While low in cost compared to the 5.8 Ghz or MIMO
systems, these units are not encrypted and can easily be picked up by other receivers operating on the same frequency. 2.4 Ghz is also quite
susceptible to interference from wireless LAN connections and other equipment operating on close by frequencies. However for situations away
from such interference these 2.4 Ghz wireless CCTV transmitters and receivers can provide really good performance at very good prices too.

2.4GHz video and audio transmitter

2.4GHz
Transmitter
Video and audio
Range up to 50 metres
3dB antenna SMA connector
Channel selected by DIP switch
10mw output
Aluminium case
Fully approved
12v DC @ 250mA

2.4GHz video and audio receiver

2.4GHz
Receiver
Video and audio
3dB antenna
SMA connector
Channel selected by DIP switch
Aluminium case
Fully approved
12v DC @ 250mA

2.4 Ghz Video - Audio CCTV Transmitter

2.4 Ghz Video - Audio CCTV Receiver

£73.99

2.4 Ghz Video - Audio Receiver

15-2400VT

15-VT2400VR