Mini Internal Dome IP Camera Kit 6

Camsecure CCTV

Webcams CCTV Software and Systems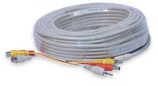 Our mini Internal IP dome kit 6 is ideal for monitoring your office, workplace or home. The kit comes with our mini internal dome camera which has a wide angle lens and is designed to be mounted on the ceiling. Also included in the mini IP dome kit is 20 metres of cable, our mini webserver and PSU, camera PSU and RJ45 patchlead.

As this kit uses a separate webserver and camera module you have the extra flexibility of camera choice as you can change the camera or ad up to 4 more cameras of any type you choose or need for the specific view you wish to obtain. Changing the camera does not affect the settings in the webserver so you dont have to reprogram anything when a camera change is made. Also the electronics of the webserver can remain in the security of the building where it is far less likely to become damaged or vandalised.

The kit can be set up on your own web page so that any operating system and any browser can see the live camera. When you do this you can even see your camera using an iPhone, a Blackberry or any other modern smart phone with java enabled browsers by logging on to that page.

Please note that our IP camera kits are designed for Live Video streaming and not for timed FTP image upload


Specification

1. 1/4" Sony Colour only CCD sensor.
2. Neat camera housing ideal for fitting on suspended ceilings.
3. Bottom cable entry for feeding straight up into the suspended ceiling.
4. Pre-focused for perfect clarity.
5. 2 axis camera adjustment, down 90 degrees plus 360 rotational adjustment.
6. Separate Webserver with 4 inputs.
7. Codes and Instructions supplied for direct integration into a website.
8. 20 metre cable supplied for between camera and webserver.
9.Powered from separate power adaptor down all in one cable.
10.Adjustable quality and resolution settings up to 704 x 576
11.Frame rate maximum 30 FPS at 320 x 240 and 15 FPS at 640 x 480

With the Camsecure Weatherproof day night IP camera kit you can easily
monitor your street, Garden, Car Parking area, anything you like over the
Internet or just at home on your own PC.