Weatherproof IP Camera and Webserver Kit 1

Camsecure CCTV

Webcams CCTV Software and Systems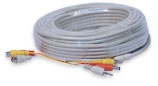 Our IP Webcam Kit range is ideal for use on your own website. These kits allow you to add an IP Webcam to your website in the same way
you would add an all in one IP webcam, but with the ability to alter the camera component if necessary, without the need to reprogram the IP
details as the elctronics for the "IP" part of the kit are in a separate box to the camera. It is also possible to add up to 3 extra cameras to the
kit and sequence your website feed between them automatically. This can be a very handy feature - but note that you can only sequence the
cameras one after another, you cant view all the cameras connected to the kit at the same time. To see more than one camera at the same
time you either need multiple IP cameras or multiple kits.

They can be simply added to any website to provide video feeds for your site that can easily be viewed by any current modern web browser
with no cumbersome downloads. This includes Firefox, Google Chrome, Safari, Opera, Internet Explorer and all modern internet enabled
mobile devices and phones. Our IP Webcam Kits can also be used with popular software including Active Webcam, iCatcher, iSee and many
more, and can even be used with Zoneminder for Linux too. But what makes them especially usefull is their easy integration into websites.

Specification IP Webcam kit 1


1. 1/4" Sony super HAD CCD sensor.
2. Weatherproof, Static and dust protection, IP65 rated.
3. Incorporates Dual Glass Technology. 3. 8mm Lens with 67 degree view.
4. Built in IR with range of 10 up to metres.
5. 3 axis cable managed bracket.
6. Separate Webserver with 4 inputs.
7. Codes and Instructions supplied for direct integration into a website.
8. 20 metre cable supplied for between camera and webserver.
9.Powered from separate power adaptor down all in one cable.
10.Adjustable quality and resolution settings up to 704 x 576
11.Frame rate maximum 30 FPS at 320 x 240 and 15 FPS at 640 x 480

With the Camsecure Weatherproof day night IP camera kit you can easily
monitor your street, Garden, Car Parking area, anything you like over the
Internet or just at home on your own PC.

Our Weatherproof IP camera kit 1 is an ideal solution for adding a streaming camera to your own website. We supply all the necessary code so
you can just cut and paste it into your own web pages and by just adding your own details you can soon be streaming your camera to your own
website.

Extra connection leads can be purchased in 20 metre lengths to extend the distance between the camera and the webserver box up to a
maximum distance of 100 metres.

If you need webcam hosting or webcam installation services we can help you with that too - just let us know.

£182.97